Flavor Profile
Robust and rich in flavor, Copper River Sockeye salmon migrate a hefty 300 miles of steep elevation up the Copper River in Alaska to spawn every May through September. This long trek requires high fat reserves, resulting in fillets that are rich in heart-healthy Omega-3 fatty acids. Very similar to traditional Sockeye, Copper River Sockeyes are rich in flavor with a firm flake.
Cooking Tips & Recipes
Similar to traditional Sockeye Salmon, Copper River Sockeyes benefit from a "less-is-more" approach; simple seasonings and preparations are ideal for this fish.
Seasonal Availability
Strict fishing season regulations means Copper River Sockeyes are available fresh for a limited time — typically only a few weeks in the beginning of summer.
Salmon Species Comparison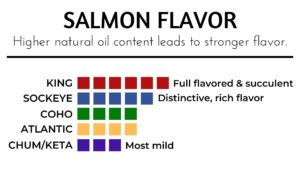 Sale!