Flavor Profile
Trademark dark red, firm flesh, and strong salmon flavor makes Sockeye one of the most preferred salmon species. Caught in the icy waters of Alaska, Sockeyes are available fresh mid-May through mid-September and available frozen year-round.
Cooking Tips & Recipes
Sockeye Salmon do well with simple preparations in both seasoning and cooking. Lightly marinate Sockeyes and grill until the fish flakes easily.
Salmon Species Comparison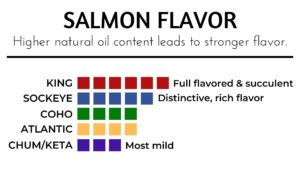 Sale!