5-6oz North Atlantic Lobster
A small taste of sweet North Atlantic Lobster.
WILD PRODUCT OF USA, CANADA
PRICE PER TAIL
All products are available for local pickup or UPS shipping (to Montana and Wyoming only).
Shipping price will be determined and communicated after purchase.
Average cost for UPS shipping to MT & WY is $25-35. Lobster Comparison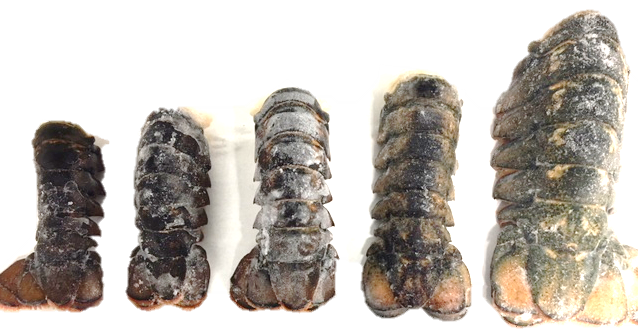 PICTURED: NORTH ATLANTIC COLDWATER LOBSTER TAILS RANGING FROM 5-6OZ (LEFT) TO 28-32OZ(RIGHT)
Coldwater lobster are known for their sweet & firm meats. Tail meat is more firm than meat found in claws and knuckles. Coldwater lobsters are known for being more tender and succulent than their Warm Water cousins. Commonly found in Maine, Canada, Australia and New Zealand.

Warm Water lobsters are most often harvested in the Caribbean and are noted to be more savory (less sweet) and have softer meats. Warm Water lobster shells are less thick than coldwater ones, meaning tails have slightly more meat.
Cooking Instructions
Preferred cooking methods vary from chef to chef; they can be baked, broiled, boiled, grilled or steamed. We recommend baking or broiling, as both options seal in flavor and offer a beautiful presentation.
In any cooking method for Lobsters, the general rule-of-thumb (at 350°F) is 1 – 1.5 minutes per ounce. Cook this 5-6 ounce lobster for approximately 5-9 minutes. Cooked lobsters should have firm meat and a bright red color, with an internal temperature between 140-145°F.
Buy More - Save More
Buying more than 1 tail? Save money by buying a case instead!