There's nothing like homemade sushi, but it is important to be sure that you are buying quality, sushi-grade seafood. Failing to distinguish between safe and unsafe seafood will not only ruin your meal, but increases your risk for foodborne illness. At Seafoods of the World, we have an incredible variety of fresh and frozen sushi-grade seafood that you can't find anywhere else!
---
Fresh Sushi-Grade Seafood
When it comes to our fresh-never-frozen fish, there are three selections that are readily available and safe for sushi: New Zealand King Salmon, Atlantic Salmon, and Ahi Tuna. From my experience, both salmons are equally popular for sashimi. The tuna (which is always sashimi-grade, unless otherwise noted), is most commonly used for spicy tuna rolls or poke. If you have questions about anything else fresh, feel free to ask our friendly and helpful staff!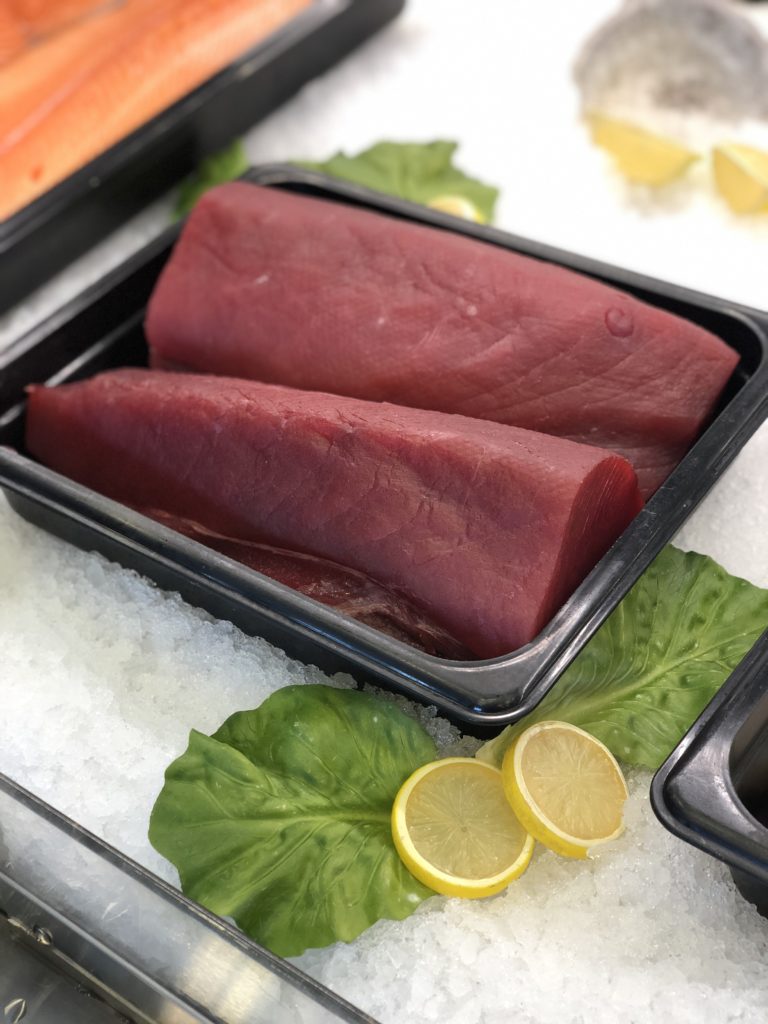 Fresh Ahi Tuna
Also known as Yellowfin, Ahi Tuna is every sushi-lover's dream.
WILD CAUGHT PRODUCT OF PHILIPPINES
PRICE PER POUND
RECOMMENDED SERVING:  0.5 POUNDS
*SUSHI GRADE*
---
Frozen Sushi Ingredients
Our frozen sushi selection is much more than salmon and ahi tuna; we have Albacore Tuna, Hamachi, and Escolar, as well as other fillings such as Tobikko (Flying Fish Roe), Masago (Capelin Roe), and Imitation Crab. These options can be difficult to find in other retail stores, but allow you to prepare sushi beyond the typical California Roll. If you are looking for something incredibly rich and buttery, try the Escolar — or try a flavored Tobikko for a twist on your favorite sushi roll!
---
Other Products
In addition to seafood, we have Nori (dried seaweed sheets) and Soy Paper Sheets. Nori is the most common wrap for rolls, but the Soy Paper Sheets are excellent for a more neutral taste. Mochi, a delicious ice cream wrapped in a sweet rice dough, is also back in stock. They come in a pack of six and are available in vanilla, green tea, strawberry, and mango.
-Parker